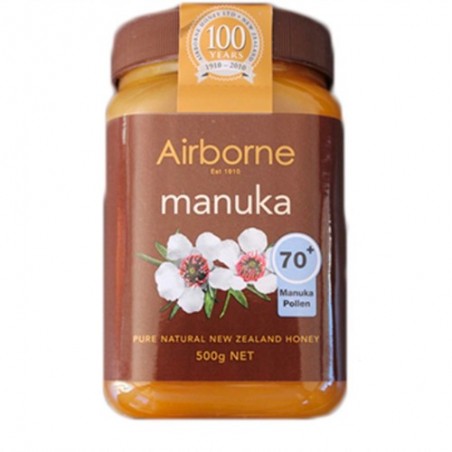  
Airborne Manuka Honey 70+ 500gm
Airborne Manuka Honey 70+ 500gm
Manuka honey, produced in New Zealand by bees that pollinate the Manuka bush, is one of the most unique and beneficial forms of honey in the world. There are many Manuka honey uses that range from healing sore throats and digestive illnesses to curing Staph infections and gingivitis.
Manuka honey differs from other types of honey because of its bioactive properties. It contains dietary methylglyoxal, which forms naturally in the manuka flower's nectar and is said to give the honey its healing properties.
The Maori people of New Zealand used Manuka as a medicinal plant, from treating fevers and colds to sedatives and early European settlers called it the "tea tree".
This is a strong flavored honey but with a fresh clean bite. Airborne Manuka 70+ honey has a mono-pollen count of over 70%, ensuring the high antioxidant and antibacterial content of the honey.
HEALTH Manuka is 173% more potent in this regard than regular honey.
Airborne jars are clear and honestly display our honey; DO NOT be fooled by honey that does not display or test their pollen count, or what has been dubbed "pollen-less goo" by the media!
All New Zealand honey has been lab-tested and scientifically analyzed to bring you the best, most healthy honey in the world. Airborne Manuka 70+ honey has a mono-pollen count of between 70 - 80%, ensuring high antioxidant and antibacterial content.
Consumers can enter the batch number into "Trace Me" on a website and see all the parameters for the honey in the jar http://www.abh.tips
Airborne Honey uses the international CODEX standard to define manuka honey
For honey to be defined as manuka honey 3 parameters need to be measured.
Organoleptic                           Taste profile
Physicochemical                      Sugar and mineral profile
Microscopic                             Pollen profile
Quality                                   HMF profile                                                
Airborne summarizes the standards of manuka on its label under Honest, Undamaged & Traceable label on the back of every jar.
Honest                   Over 70% manuka pollen   
Undamaged            Under HMF 10mg/kg (Hydroxymethlfurfural)
Traceable               Can be traced back to the beehive