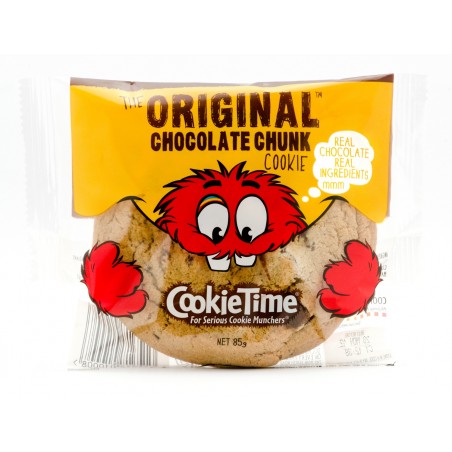  
Cookie Time Original Chocolate Chunk Cookie
Cookie Time Original Chocolate Chunk Cookie - 85g
'll never forget my first love. The Original™ Chocolate Chunk cookie still tastes as good as it did when the first one was baked back in 1983. These huge chunks of chocolate will bring huge chunks of happiness!
The Original™ Chocolate Chunk cookie was also the first product for Cookie Time Limited, which now has a comprehensive portfolio offering delicious tastes for every occasion. The business was founded in Christchurch and this is still our headquarters today.
Ingredients: Wheat flour, Chocolate 20% (sugar, cocoa mass, milk solids, cocoa butter, emulsifiers (soy lecithin, 476), malted barley syrup, flavour), Butter (cream, salt), Brown sugar, Sugar, Eggs, Raising agent (500), Salt. Contains milk and soy products, egg and gluten-containing cereal products. May be present: Peanuts and tree nuts.
* "We always put the same quantity …cookie to cookie", with When it comes to our chocolate chunks I say big is better! And I always put the same generous amount in every batch of cookies I make. The size does make it difficult to divide them evenly between each cookie, but this is what makes each one unique, just like you and me!