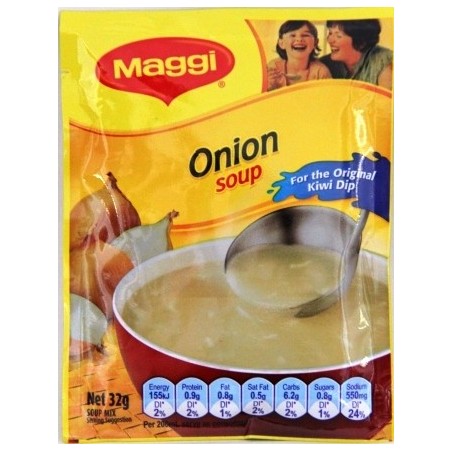  
Maggi Onion Soup
MAGGI Soups have been a trusted friend in Kiwi kitchens since 1952.
They're so popular because they taste great, are easy to store, cost effective and there's no limit to the delicious things you can do with them!
You can enjoy a bowl of soup as a quick and easy snack or meal, plus there are endless ways to use packet soups for a tasty meal base or as a flavour booster for your favourite recipe - or you can even combine MAGGI Onion Soup with NESTLÉ Reduced Cream to make a classic dip!
Quick and simple to use, MAGGI Soups are an essential part of every kitchen cupboard. You never know when they'll come in handy.
A New Zealand favourite. Use as a soup or combine with a can of Nestle Reduced Cream for the ultimate traditional Kiwi dip.
Ingredients
1 pack maggi onion soup
1 can Nestle Reduced Cream
1 tsp fresh lemon juice or vinegar (optional)
How to make
1. Place all ingredients in a bowl and mix well to combine. Cover and chill for about 30 minutes before serving.
2. Serve with a selection of potato chips, corn chips, fresh vegetables cut into bite sized pieces, rice crackers or pita bread.
Preparation time: 
5 minutes plus 30 minutes chilling tim